If you are starting out in Alarm Monitoring and you already have a physical alarm receiver (or some other kind of software that receives directly from an alarm system or cloud based alarm system), this may be of interest to you while you contemplate which of the big boys (Professional Software) like Sentinel Plus, Gemini, Patriot, Microkey, etc, you may be signing up to.
With NT Alarm Receiver, you can quickly utilize it as a no-frills stop-gap.
Or, if you are a small Monitoring Station, this might be of use to you.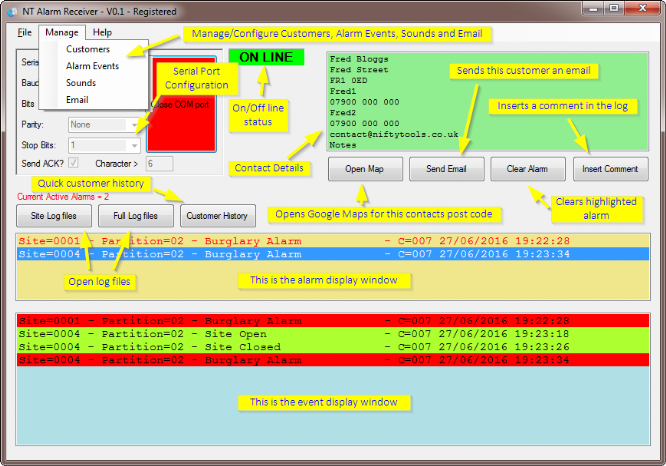 No Frills - Alarm Receiver / Handler (CMS)
Features:
Input - MLR2 Serial data format (RS232)




Supports: Contact ID (Point ID) / SIA 1/2/3 / Fast Format

4 Digit Site codes only

Main event window




Alarm event window




Full log file access (Notepad files)



Individual Site log file access (Notepad files)


Quick Customer history window




Custom audible notifications - Play once/repeat, Silent, Windows beep




Configure Alarm event codes

Configure sounds for Alarm, Regular event and Communication loss

Email feature (Manual or Automatic)

Map access for customer - Link also arrives by email

Backup feature




SIA-IP / DC-09 (Basic -No Encryption/No Text)

Call to External batch file to pass parameters for events (Credit to Tom K / USA)
External batch feature:
Calls an external batch file (or similar) and can pass parameters for Alarm and/or non Alarm events (selectable) as they arrive. This can enable you (by batch file) to call another application and invoke your own external event.
Download is fully functional but limited to 5 Customers/Clients/Sites -
External batch is also limited to 1 hour
Registered version = Up to 9999 Customers/Clients/Sites - External batch not limited
V1.3 - Addition of SIA-IP
V1.4 - Fixed small bug with SIA-IP and RS232 Communication fault warning
V1.5 - Fixed bug with log files. Added Call External batch file (or similar) and pass parameters
NOTE: Please trial the application first and be sure you are happy with its functionality before obtaining a registration key.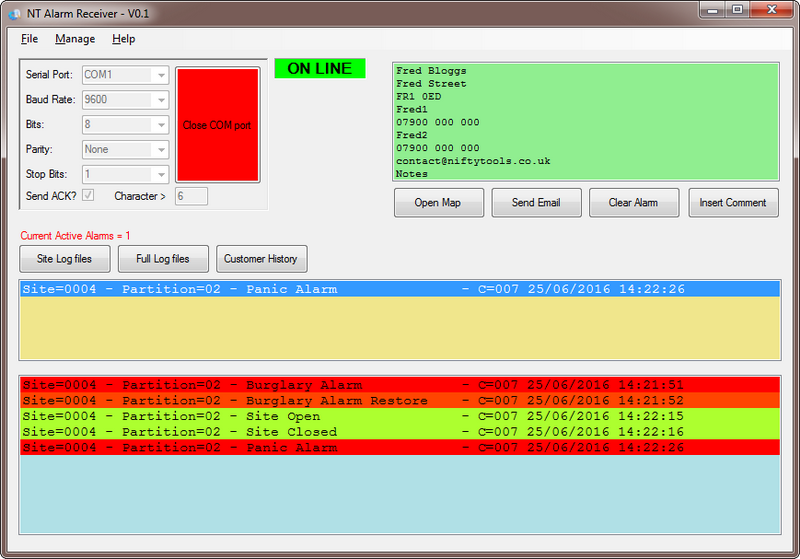 Simple, no frills Alarm Receiver / Handler software.

Registration is for registration key that will open the software for up to 9999 4-digit site codes.


Click the shopping cart above to purchase ^